Putting on a fully staged production is expensive.  Costs include the hire of a theatre; sourcing costumes, scenery, props and music; paying an orchestra, MD and Director; publicity and programme production.  Then there are rehearsal expenses, which include room hire and accompanist fees.
If you would like to help us raise funds you can make a direct donation via Paypal using the button above.
But there are two other ways you can help us, one of which don't cost you a penny.
Register with Worcester Community Lottery and support Opera Worcester here
Worcester Community Lottery is an exciting weekly lottery that raises money for good causes in Worcester.
Tickets for the lottery cost just £1 a week. Each ticket has a 1 in 50 chance to win a prize each week, with a top prize of £25,000! That's a better chance of winning than the National Lottery or the Health Lottery.  Most weeks each ticket is entered into a bonus draw to win a prize which varies over time.  The latest bonus is detailed below.
Each ticket has six numbers and each number is between 0 and 9. There will be a draw every Saturday night when a six digit winning combination will be picked. Prizes will be given to players with tickets that match the first or last 2 to 6 numbers from the winning combination. Match all six and you win the jackpot!
Choosing Opera Worcester as your good cause means we get 50p of every £1 that you spend.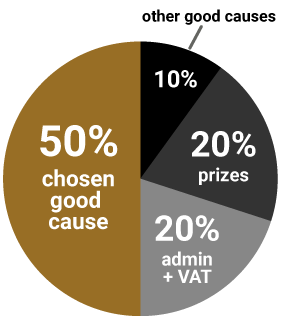 Did you know that whenever you buy anything online – from your weekly shop to your annual holiday – you could be raising free donations for Opera Worcester with easyfundraising?
There are over 7,000 brands on board ready to make a donation – including eBay, Argos, John Lewis, ASOS, Booking.com and M&S – and it won't cost you a penny extra to help us raise funds.
All you need to do is:
1. Register with easyfundraising here and join for free.  Select your chosen charity as Opera Worcester
2. Every time you shop online, go to easyfundraising first to find the site you want and start shopping.
3. After you've checked out, the brand will make a donation to Opera Worcester at no extra cost to you whatsoever!
There are no catches or hidden charges and we will be really grateful for your donations.